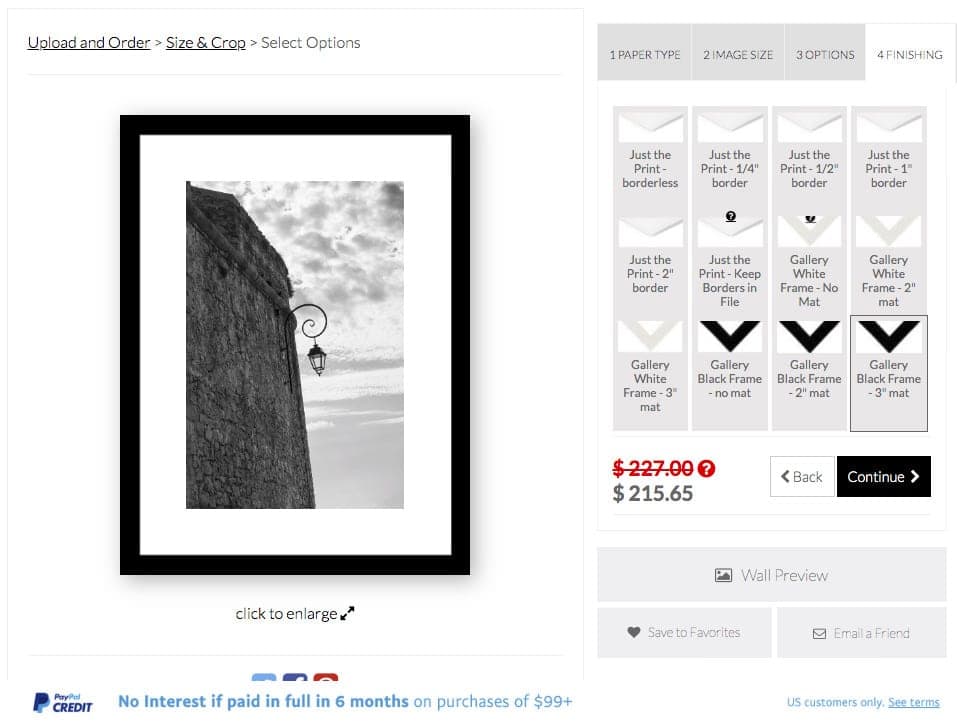 "Non-contact printing": all about ordering prints and scans online
We invested in a web ordering platform a few years ago to empower artists to build and customize their prints and frames online. Recently, we've added some new papers and ordering options for everyone working on images and artwork at home. 
First, a bit of history. When I started Candela in 2011, we had a very basic way to order prints online. You'd fill out a web form, upload files by YouSendIt, and wait for us to download them during business hours. Then we'd have some back-and-forth emails to hash out image size, paper type, borders, quantities, and other details. Finally, we'd make an estimate, wait for approval/deposit, and start printing. Tedious and slow, I know – but that seemed cutting edge back then.
Flash forward to our current online ordering system: our website's Direct to Print tool allows you to upload files up to 100MB for printing 24/7. Here's some other cool things it does:
Lets you choose the image size (including custom sizes). The print tool analyzes the image and determines the max size it can print with your file's resolution.
Choose from our curated selection of photo, fine art, watercolor papers and canvases.
Print options include adding borders and frames too – and see a preview of a framed print.
 The "Wall Preview" is a handy tool that lets you see the scale of your print in different rooms with furniture. You can change the wall's paint color – a feature I've used to figure out what art looks good in my house 🙂
The print tool also calculates your costs in real-time (and applies quantity discounts automatically).
Your order history is saved, so it's easy to re-order an image (and look up details about previous orders like paper type).
Last, you can choose shipping options – either ship them to your home, a client's address, or held for studio pickup.
We've enabled drum scan ordering through the web site too -this makes scanning your film even easier. Drum scanning has been a real bright spot in the last six months. Some days it feels like the golden age of film scanning (2005-ish) all over again.
All told, online ordering allows us to receive 80% of our print orders efficiently and securely. For custom print orders that require more services like retouching, raw conversion, editing, or uploading very large file sizes- well, we still need to do that the old school way.